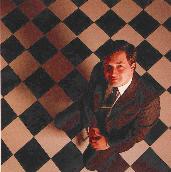 Some background: In 1979 I founded Proximity Technology and led it as President until its merger in 1988 with what is now Franklin Electronic Publishers. At Franklin I served as Chief Scientist and then President until 1991. My work there, and much earlier designs at Proximity, formed the basis for the first hand-held electronic books ranging from spellers and dictionaries to Bibles and encyclopedias. Between one and two million of these are published now each year and distributed internationally.
At Proximity I also designed and led the development of the PF474 VLSI device. This chip was among the first to explore the implementation of non-traditional functions in silicon. My work at Proximity also led to standardized software components used by more than 150 software publishers to provide linguistic functions such as spelling error detection and correction in word processing software, typewriters, optical character recognition systems, and information retrieval systems. Proximity also introduced several end-user consumer software products.
I have seen first-hand that a single line of research aimed at a very simple form of intelligent computer functionality, can spawn a small industry and affect millions of people. It is clear to me that a better understanding of the central issues relating to intelligence will have a profound, and I believe positive impact on our entire culture.
Described earlier in this web site are some of the products that I'm proud that my algorithms, data structures, and other creative and business efforts have contributed to.
The product lines of these companies have moved forward with technology since I left in 1991. The products offered today are not therefore identical to those I describe, but are the result of further evolution by the company's talented staff.
Peter N. Yianilos , 1997
---
Great Products are much more than an idea, algorithm or any other single contribution. They are a composite of many things. One thing that distinguishes Proximity and Franklin is the range of talents required to produce their products. These range from linguistic and lexicographical contributions through algorithm invention, software engineering, microchip design, mechanical design, and manufacturing engineering. Pictured below are many members of the Franklin/Proximity team. The photograph was presented to me on a plaque shortly after I left in 1991. Not pictured are several important contributors including Mort David (see The Franklin Spellers for photograph), George Hardy, Mark Heising, Greg Hullender, Joe Decker, and Tom Yianilos. Also not pictured is James H. Simons with whom I started Proximity in 1979. Jim provided valuable board-level guidance through the years and other valuable conceptual contributions including his unwavering belief in the importance of hand-held electronic books. As this web page is being written more than 5 years after my departure, I'm certain I've forgotten at least one person. To all of you, please accept my apologies and send me email so that I might update this site!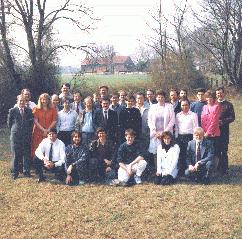 ---
Proximity spent its first year in Stonybrook on Long Island and then moved to Fort Lauderdale Florida. After several years of occupying leased space we bought the building below which served as the company's home until and for some time after its merger with Franklin. Proximity also operated a VLSI design and software lab in Sunnyvale California as well as several regional sales offices.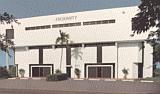 To commemorate Proximity's merger with Franklin, and the success of the speller, Jim Simons had a bronze casting of the speller produced. This is mine.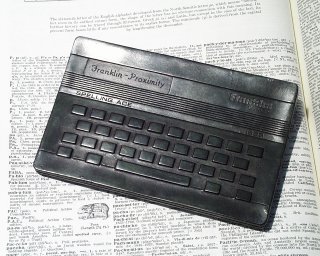 The company's identity was given by the following slide used during corporate and tradeshow presentations: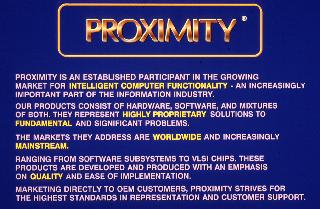 Many of the Proximity/Franklin projects are described elsewhere in this website -- but by no means all of them. The very first end-user software product developed and marketed by Proximity was a word game inspired by the popular Boggle board game.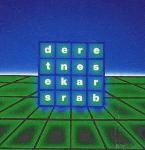 The company developed an operating system module for PCs in the early 80's that used redundant coding to protect floppy disks. Operation was entirely transparent. We were fond of demonstrating by punching a hole anywhere on the disk and demonstrating that it's data remained intact. This work did not lead to any commercial product, due in part to the market's lack of interest in this issue (at the time).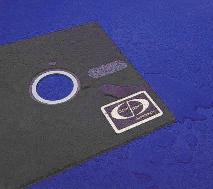 ---
An interesting episode in Proximity's corporate history took place prior to our merger with Franklin. At the time Franklin was manufacturing and marketing personal computers that were compatible with the popular Apple II. The scheme for generating color graphics by the Apple II was invented by Steve Wozniak and is the subject of a patent held by Apple. Jim Simons was a major investor in both Franklin and Proximity and contacted me to determine if there might be an alternative but compatible approach. I described one -- and that led to a Franklin patent ( Color Video Circuit ). This circuit was then used by Franklin, and Proximity received a royalty.
---
Other Proximity activities included a joint project with Siemens/Elema in the area of solid-state EKG recording. Proximity designed and built prototypes of such a recorded that used proprietary compression methods. The company also completed several small defense contracts relating to its technology.
---
Visit the Franklin Electronic Publishers website